LESSON
緊縛に興味がある方を対象に、サロン、スクール、プライベートレッスンを行っています。お気軽にお問合せ、ご参加ください。
Salon,classes,private lesson are organized for any person who has interest in kinbaku.Feel free to contact us for any further information.
The Private Lessons of the hajimekinoko.
Hajime Kinokoプライベートレッスン
一鬼のこの主催する一縄会、一般講習会を含めると年間100人以上の方に緊縛を教えています。 安全を第一に考え、生徒様の様々なニーズにお答え致します。 まずは緊縛の世界に触れてみたい方。 テクニックの向上を図りたい方。 安全な『吊り』を覚えたい方。 自己流だがきちんとした縛りを習い直したい方。 カッコいいショーパフォーマーを目指している方。 アートとして成立する縛り方。 女王様のプレイ用の縛り方。 日本の古典的な縛り方。 さらに上級レベルとして吊りの展開(空中で様々な吊りの形が変化する)や、秘伝の技も伝授いたします。
Besides offering private lessons, the One Rope Association that sponsors the hajimekinoko, has been teaching bondage to over 100 persons per year, including giving public workshops. We will respond to all the needs of our students, taking into consideration safety first and foremost.
First of all, we welcome those who wish to come into contact with the world of bondage; those who wish to improve their technique; those who wish to learn safe "hanging"; those who wish to polish their personal style of bondage to a correct and proper one; those who are aiming to give cool "show performance" quality in bondage. We also teach the method of bondage that constitutes an art form; the method of bondage for "Her Majesty's Play"; the traditional Japanese method of bondage; and more advanced levels, including the development of "suspension", (all kinds of "suspension" in space with transformations) as well as the secret techniques for special transitions.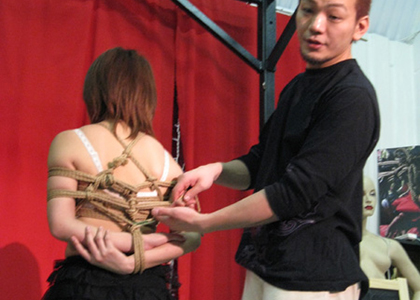 Ichinawa rope classes by Ichinawakai
一縄会主催・一縄教室
毎回、Hajime Kinokoと5~7名の講師が多数の生徒に向けて安全面を第一にスクールレッスンを行っています。
第二・第四火曜 19:00~22:00
第三日曜 13:00〜17:00
4000円~
事前にお申し込みの必要は御座いません。お気軽にお越し下さい。
Classes are organized for any person who has interest in kinbaku.
Every 2nd and 4th tuesday of the month, lesson from 19h to 22h.
And every 3rd Sunday of the month, lesson from 13h to 17h.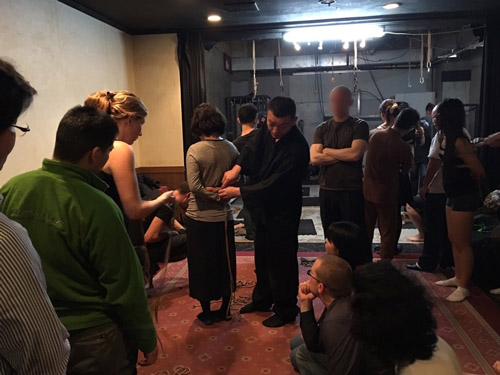 About ichinawa instructor licence
講師になりたい人へ
通常、日本の一縄教室で中級を合格した人は、初級までの講師免許を与えています。
なお、中級までの講師免許は、一縄教室において20回の講師経験後にテストがあり合格するとその免許が得られます。
なお、海外の人に向けて講師になる為の『講師講習』を行なっております。
よく私から習った縛りを教えている人がいます。私から習ったのは、事実かもしれませんが、キチンとできているかは、わかりません。
私の講師講習で免許を取得するとHajime Kinokoが認めたオフィシャルの講師になれます。
各レベルごとに検定があり、それをクリアするとそのレベルまでの講師免許を取得できます。
詳しくは、お問い合わせフォームにてご相談ください。
海外オフィシャル
オーストラリア
・ブリスベン
Jake Carl
Any person who graduated japanese intermediate level of ichinawa class get the beginner level instructor license. As for the intermediate level instructor license, one will need to teach 20 times at the ichinawa classes and pass a final test.
As for people living abroad, I give special "instructor classes". There is some people who teach what they learned from me. It may be true they learned from me, but there is no guarantee they can teach it properly. Only people who took the "instructor classes" and obtained their instructor licenses are official instructors acknowledge by Hajime Kinoko.
There is a license test for each level and only those who pass get the corresponding instructor license.
Feel free to inquire for details through the web form.
Official instructor
Brisbane, Australia
Jake Carl