ICHINAWA SALON
Ichinawa Salon
一縄サロン
縛りたい人と縛られたい人が集まってお茶やお菓子を囲み、カップルは、もちろん、フィーリングがあったペアが緊縛するサロン。
沢山の縛りが見れますし、体験で縄が好きな人同士の情報交換もできます。
初めての方や見学のみの方などご自由に参加できるオープンな集まりです。
事前にお申し込みの必要は御座いません。お気軽にお越し下さい。
第1金曜、第3火曜 19:00〜23:00
Ichinawa Salon is a Kinbaku Salon where people who want to tie up and those who want to be tied gather and surround a cup of tea and sweets. You can enjoy Kinbaku as a couple and also find a person to get along with to make a pair. You can see and experience many bindings, and exchange information between people who like Kinbaku. It is an open gathering where you can participate freely, whether you are a beginner or a visitor. There is no need to apply in advance, so please feel free to come join us.
Every 1st Friday and 3rd Tuesday of the month. Open from 19:00 ~ 23:00
※当イベントはコミュニケーション・アート・文化としての目的とした「縛り」を目的とし、公序良俗に反するような行為目的としたイベントではございません。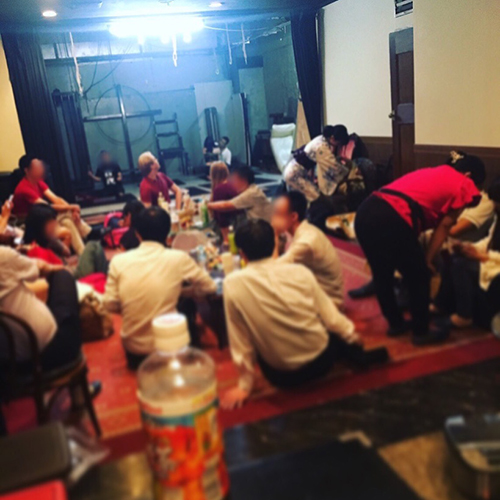 日時
When

第1金曜、第3火曜 19:00〜23:00

Every 1st Friday of the month and every 3rd Tuesday of the month, opens at from 7PM to 11PM.

場所
Where

下記の写真、中央の地下へと降りる入口より地下スタジオまでご入場ください。

Please enter from the entrance down to the underground which is in the middle of this picture.

参加費
How much
男性 5,000円
女性 2,000円
Man: 5000 yens
Woman: 2000 yens
対象
Who should attend
縄、緊縛に興味がある方。
Any person having interst in rope and kinbaku.
注意事項
Instructions
・着衣緊縛が原則です。
・不法行為、公序良俗に反する行為はご遠慮ください。
・主催者、運営者の指示に従っていただけない場合、参加をお断りすることもあります。
.No nudity authorized
.Refrain from any illegal or indecent behaviour
.If you fail to to follow indications by the organizers, you cannot participate
.You can bring food/drinks, but no alcool will be allowed during lessons.
備考
Others:
・飲食の持込みOKです。ソフトドリンク、お菓子は多少ご用意いたします。アルコールは必要に応じて各自ご用意ください。ただし、飲酒後の緊縛については各自の判断、及び受け手との相談の上で行ってください。
・事故、トラブルについては一切責任を負えません。原則、当事者同士での解決をお願いします。
・18歳未満、高校生は参加をお断りしております。
.Some soft drinks and crackers will be provided.
.You can take alcool but be sure to inform the model and be responsible if you tie after having drunk.
.We dont take any respnsability in case of accident and trouble. Any problem will have to be settled by the involved persons.
.Persons under the age of 18 and high school students are not allowed to participate.